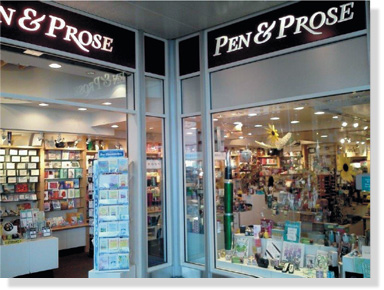 Pen & Prose began operations as a kiosk at Ronald Reagan Washington National Airport (National) in 1995. Just two years later, in 1997, Pen & Prose opened its first retail location in National Airport. As the Pen & Prose brand was being defined, so too was the new North Terminal of National Airport. Pen & Prose was involved in every aspect of design and build, to bring the store to today's reality. This grass roots effort set the tone for future growth of the Pen & Prose brand. The company is intimately involved with design, construction, stocking, staff and operations of its current facilities in National, Washington Dulles International (Dulles) and Philadelphia International (Philadelphia) Airports.
Pen & Prose is owned and operated by Mary Morgan. The business is an Airport Concessions Disadvantage Business Enterprise (ACDBE) certified with the Metropolitan Washington Airports Authority (MWAA) and has been since its initial entry into airport concessions. For the five years prior to joining MWAA as one of its concessionaires, Ms. Morgan provided direct consultation services to MWAA's Office of the Chief Financial Officer, Telecommunications and Information Technology. Today, Pen & Prose is National Airport's only full service stationery and pen store.
Pen & Prose is also a certified small business with the Department of Transportation. The company has received recognition from several organizations for the success of its airport operations. In fact, the Small Business Administration recognized Pen & Prose for sustained operations in the face of the September 11 tragedy. Ms. Morgan and the company were also recognized by the Small Business Office under the Department of Transportation for its role as a presenter in the first small business conference hosted by the department. Pen & Prose is often spoken of as the perfect testament to what small businesses can accomplish if property managed. As further evidence of the strength of the Pen & Prose brand, the company has been approached by various travel venues to consider opening stores in their facilities.
Ms. Morgan has worked in significant roles for small businesses, government and Fortune 100 companies, both domestically and internationally, throughout the years. She has experience in the areas of finance, accounting, marketing, sales, strategic planning, operations analysis, technology and training. The diversity of her experience and the multi-directional functions she has overseen, have been important to the growth she has achieved throughout her career. This background has also emboldened Ms. Morgan with the confidence and capabilities to initiate and run a business that has grown extensively over the years.
Her background includes the position of Vice President with a national organization, where she was responsible for the implementation of an overall organizational restructuring. She also has extensive experience as Vice President with an international management consulting firm. In this position, Ms. Morgan honed her negotiating and strategic planning skills, working with clients from backgrounds as diverse as foreign governments as well as multinational corporations. As a CPA, Ms. Morgan's understanding of Profit & Loss statements and ROI is second to none. And armed with a Masters of Business Administration from the University of Pennsylvania's Wharton School, she possesses a keen understanding of finance, key business processes and structure. The entirety of her experience has led to the successful management and growth of Pen & Prose.
Mary Morgan and her family reside in the District of Columbia. She is very active in the community.
Education:
Bachelor of Science in Accounting
Virginia Commonwealth University
Master of Business Administration in Finance and Marketing
University of Pennsylvania's Wharton School
Certifications:
CPA
Certified Six Sigma Black Belt
Senior Examiner, Malcolm Baldrige National Quality Award
Leadership Positions:
Treasurer of the American Society for Quality, Washington DC Chapter
Advisory Committee, Horizons of the DC Metropolitan Area
Fair Share Campaign, Sidwell Friends School
Visiting Professor, Urban League